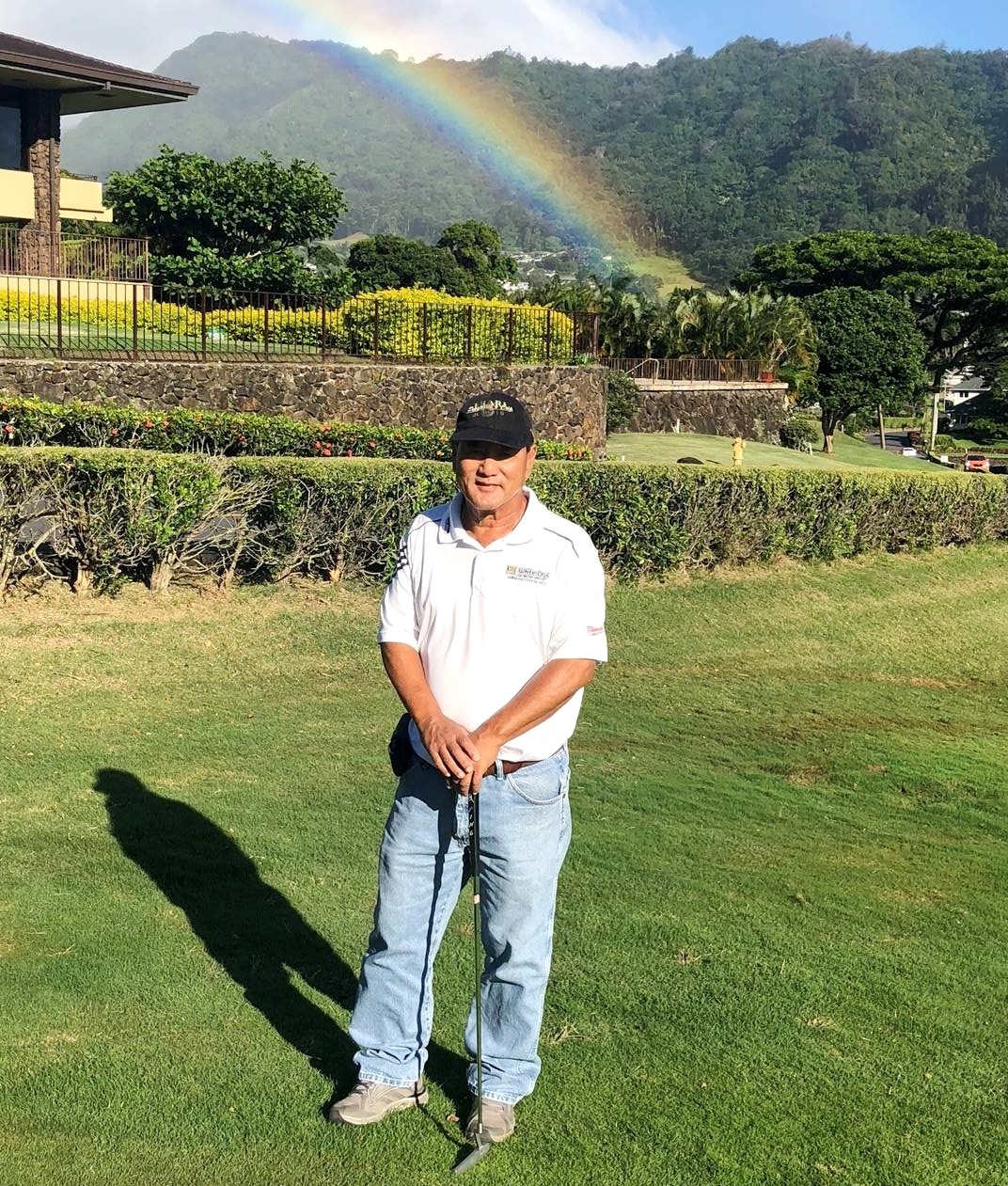 Kyle Isami Fujimoto, age 66, was the son of the late Norimitsu and Dorothy Fujimoto of Kahala. He lived a full and fantastic life. Blessed with an inner confidence, sharp wit, caring heart and unbelievably powerful work ethic, Kyle was admired by many who gravitated to his desire to help others while striving to always improve himself. He loved playing golf, took pride in his local roots, loved ice cream, washing cars, the color blue, and riding his lawn mower. He cherished close friends and family ~ including his four legged best friend, Bentley. An accomplished General Contractor, Kyle took pride in the many structures he contributed to building throughout the island chain, over his 45 year career.
A Kalani HS graduate (class of '72), Kyle played football, soccer and surfed. After school he and friends went to Waialae CC to play golf, a game which became his lifelong passion. Upon earning a four year Construction Management Degree from UH, he worked for Hawaii's largest construction firms. Always kind and willing to share his knowledge, Kyle quickly became known for mentoring new engineers and carpenters. No wonder his retirement plan was to consult the next generation of contractors, so they too would learn to love his industry.
Kyle was employed by J. Kadowaki, Inc., a job he often described as the best one he ever had. Prior employers included Kiewit Building Group, Shioi Construction, Commercial Plumbing and Nordic Construction. Over the years he held various leadership positions such as General Supervisor, General Foreman, Superintendent, Owners Field Representative and Senior Project Manager. He was most proud of his civil work including projects such as Kauai's Pacific Missile Range Facility, Ashore Missile Defense Test Complex, Fort Shafter Interchange Bridge, H3 Highway Haiku Portals Approach and Tunnels, Kukui'ula Plantation, Paanau Villages Kaupakulua Bridge and Ua'oa Bridge, Hana Highway and the UH Manoa Pacific Oceanography Science Technology Building.
Over the next 40 years, golf was Kyle's passion. Each week he looked forward to the weekends where he would meet up with this "early riser" golf buddies to steal their money and get free drinks and lunches! On Saturdays, he played at Pearl CC and Sundays at OCC. His competitive nature matched ideal with one of his key role models Vince Lombardi. Kyle even carried around Vince's What it takes to be No. 1 speech in his "never seen without black/blue Wenger backpack" as a reminder to always play to win!
Lombardi said, "there is something in good men that really yearns for, needs, discipline and the harsh reality of head to head combat. I firmly believe that any man's finest hour his greatest fulfillment to all he holds dear is that moment when he has worked his heart out in a good cause and lies exhausted on the field of battle victorious."
And with the same fighting spirit, relentless courage and indomitable strength, Kyle fought his pancreatic cancer diagnosis for two challenging years, aided by the security and comfort of his loving family Maureen, Chantel, Cole, Casey, Vina, Hilda, Debbie, Fred, Sean, Patti, Tim, Cassidy, Luke and Bentley.
On April 14th, the strife was over. His family wishes to extend heartfelt gratitude to the excellent medical staff at Johns Hopkins Hospital in Baltimore, Straub Hospital and OTC in Honolulu, and Navian Kailua for their uncompromising level of care, especially during this Covid crisis.
Kyle~ you are an angel of God now. Your loved ones take great comfort knowing you will be watching over us from Heaven, even when you are playing golf everyday with your Dad Nori! RIP love.
Funeral services will be held at Diamond Head Mortuary once the prohibition on public gatherings has been lifted. In the meantime, those looking to reach out to Kyle's family please text 808-395-9927.