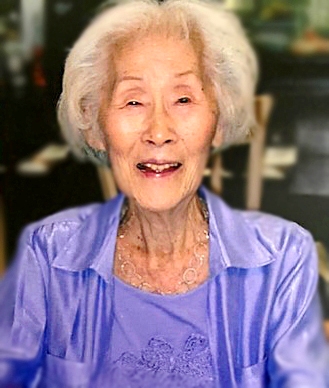 June I. Takemoto passed away with much grace on August 31, 2020, at age 99+. Spunky, feisty, and full of intellectual curiosity, she was our Energizer Bunny whose battery just ran down after a long and full life.

She was born in Berkeley, California, on December 13, 1920, to Oto Suzuki and Kiyomitsu Ishihara. Along with her parents and siblings, Dorothy, Gloria and Luther, she spent her early years in California until WWII and Executive Order 9066 upended family life with their forced evacuation to Santa Anita Assembly Center and Gila Butte Relocation Camp. To support the war effort, June joined a camp team that made camouflage netting. She was soon swept off her feet by George Masami Takemoto, of Honokowai, Maui, whom she married in 1943. With many children falling ill in the camp, George, a diary science major from UC-Davis, established and managed a pasteurization facility to provide safe dairy products for the young families. Their Gila experiences were profiled in an Annenberg/Corporation for Public Broadcasting audio production, "Prisoners of Prejudice," which won an educational documentary Ohio State Award.

Perhaps it was her years of incarceration that gave her the wanderlust to travel and to see the world. At war's end, they moved to Honolulu where their three children were born, named Patricia, Kathleen and Michael because of her love for the Irish people. Statehood in 1959 opened job opportunities for George, and June was thrilled to move and to live in Chicago and then in Yokohama, Japan, before they retired to Maui in 1973.

In addition to being an intrepid traveler (her only regret was not visiting the continents of South America and Antarctica), she was an active volunteer at Hale Makua Health Services and the Maui Arts and Cultural Center, and took a myriad of classes at Kaunoa Senior Center. After George's passing in 2007, June moved to Honolulu where she spent 12 happy years, making wonderful friends at One Kalakaua Senior Living before her last move in 2018 to lovely Manoa Senior Care.

June is survived by Patricia (Robert) Takemoto-Morse, Kathleen (Rodney) Kebo, Michael (Rae) Takemoto, grandchildren Astrid (Jason) Glass, Andrew Kebo, Andrew and Neal Chin, and great-grand- children Leighton, Catherine, and Kellan Glass.

Always generous of spirit, June is now a "teacher" with the UH Medical School's Willed Body program. A private life celebration will be held once COVID-19 is tamed and circumstances will allow.