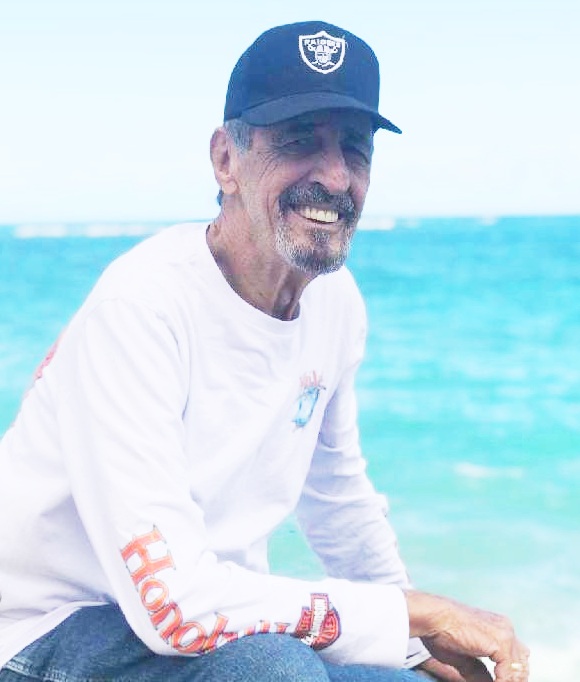 Albert "Bert" Barros Silva, Jr. passed away on March 28, 2021. He was 78 years old. Bert was predeceased by his parents, Albert Sr. & Carrie Silva and Eleanor & Albert Andrade and younger sister, Lynn Leong.
Bert was raised on the Oahu Sugar Plantation in Waipahu and spent weekends in Kakaako with his mother's family. He graduated from Waipahu High School in 1960. Prior to his retirement, he worked for Oahu Sugar Co., Browning Ferris Industries of Honolulu, & Waste Management in Oakland, California where he retired as a Safety & Operations Manager before moving back home.
Bert loved fishing, riding his Harley motorcycle, oval track racing, working on old cars, and creating his handmade ukuleles for his ohana. He loved a good party, especially the Silva Annual New Year's celebration and cooking for his family. He enjoyed the simple things in life – family, good laughs, food, a good party, and his eclectic choice of music which included the Big Band era, Hawaiian, Latin, & Jazz.
He is survived by his wife, Yvonne; children: Kim (Roland Flores) Silva, Michael (Mahina) Silva, & Randall Silva; 13 grandchildren and 14 great-grandchildren. He is also survived by siblings: brother, Robert (Janet) Andrade; sisters: Toni (Juan dec.) Gomes, Sandy (Gerald) Hornbeak, Bernie Matsumura, Berta (Kimo) Kamaunu and many nieces, nephews, and cousins.

Visitation will be held from 9:15 a.m. followed by Mass at 11:00 a.m. on Friday, April 16, 2021 at St. Jude Catholic Church in Makakilo.
Scattering of ashes will be done privately.
Masks will be required per church and state guidelines. Aloha/church attire.