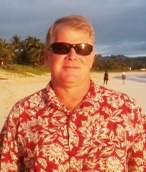 George "Woody" Ashford III passed away unexpectedly on March 15, 2021 at the young age of 52 and is now in Heaven, watching over the family he loved and cherished all his life. As the 1st born son in the family with 4 doting older sisters and 1 younger brother, Woody's birth was Great cause for Celebration, culminating in a spectacular Hawaiian luau at the Ashford home on his 1st birthday.
With his captivating ear to ear smile, his quick wit, and his compassionate nature, Woody was adored by all who knew him. Filled with an abundance of energy and zest for life, he was a natural athlete in his youth, excelling in baseball, soccer & basketball and exploring the Great Outdoors, hiking, boating, surfing & fishing. Like his father, Woody was most at peace out at sea, and he worked happily in the commercial fishing industry for years, often sharing his catch with family & friends at backyard barbecues. A huge NFL/NBA fan, he made weekly "plate lunch" bets on his favorite teams, especially the Pittsburg Steelers.
A man with simple tastes and little interest in material possessions, Woody would give the shirt off his back to anyone in need and was always there to lend a hand to family, friends & neighbors. He was loved by Many and will be dearly missed.
Preceded in death by father, George W. Ashford, Jr., he is survived by his mother, Mary Harrington; his siblings: Kathy, Lisa, Robyn, Georgianne and Mike; step siblings: Michael & Maile, and his cherished daughter Sarah Dawn.

A Celebration of Life will be held at a later date in 2021.