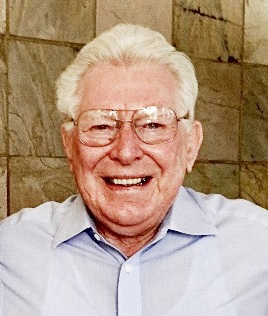 91, passed away peacefully on January 4, 2021, in Helendale, California. He was born August 16, 1929 in Belleville, Illinois. Harry was the second and youngest son of Charles Edgar Meyer and Caroline Tomlinson Meyer. He dreamt of warm exotic places, far from his Mid-western roots. That vision came to fruition after enlisting in the air force. At the age of 22, Harry arrived into Honolulu on a troop ship, en route to the Korean War. He instead, debarked—calling Honolulu home until the late 90's. There are numerous, lively tales about how he was, as a young enlisted private— reassigned as part of a "hospitality and protocol "unit stationed at Hickam Air Force base.

Harry met his first wife Emma Aluli in the fall of 1953, and they married a few months later in February of 1954. They had 7 children and lived beachside at the family home in Kailua, O'ahu. Known affectionately as "Uncle Harry" to the many cousins and locals of Kailua, the children were raised on that strip of beach-- one of the most beautiful in the world. Often hosting frequent parties for family, friends and guests of the Hawaiiana Hotel, at Ho'omaika'i (name of the family home), fond, lasting and early memories were created there.

He was a true entrepreneur, trying his hand at many small business ventures before becoming owner and manager of a small boutique hotel, the Hawaiiana, on Beachwalk Avenue. During the early '50s Waikiki was very much a small resort town. The youngest hotel owner at 26, he was mentored by the likes of Roy Kelley, Henry Kaiser, Baron Hilton and others. He was well known on the streets of Waikiki, for the hospitality and care his guests experienced at his hotel, and for the extraordinary relationships he had with his all Hawaiian staff and the myriad Hawaiian musicians that got their start playing pool-side at the Hawaiiana Hotel.

He is preceded in death by his first wife Emma Aluli Meyer, and daughter Malia Gale Haglund. He is survived by wife Christine Meyer, sister-in-law, Joan Meyer, of Belleville, IL., daughters Meleanna, Maile, Moana, Manulani and Luana, and son Maui; sons and daughters-in-law, Bill, Laurie, Michael, Ngahiraka, Ian and Jan, and a slew of grandchildren, great-grand children, nieces, nephews and members of the Waikiki Rod & Gun Club which he founded in the 1960s. A celebration of his life is panned for April 19th, at sunset- Kaimana. Please contact those in the family that you know, for the details! If you'd like to send a remembrance of Harry please feel free to send thoughts and stories to P.O. Box 3080, Hon. 96802.