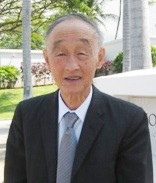 Stanley Yutaka Oshima, 86, of Lana'i passed away peacefully on April 8, 2021. He was born on Lana'i on June 10, 1934 and was the oldest of six children.
Mr. Oshima attended Lana'i High and Elementary School and graduated in 1952. He then attended Brigham Young University in Provo, Utah. Upon returning to the islands, he taught in Kohala on the Big Island for a year before settling back on Lana'i where he retired in 1989. He taught advanced mathematics at the high school, was an assistant basketball coach to Mr. Donald Matsui, class advisor, and volunteered for numerous activities during his teaching career. Upon retirement, he then went to work for the engineering department at the Lodge at Koele for seven years.
A true Lana'i boy at heart, Stanely enjoyed fishing on his boat, diving, gardening, and taking his family to the beach on the weekends. He fulfilled a dream of his when he built his house when he was 40 years old. He was also active in his church, served as a Boy Scout and Cub Scout leader, and as a Branch President for the church for many years. Most of all, he loved and cared for his family, along with everyone he came in contact with. If someone needed help, he was always there. He was a very optimistic and happy person.
A special mahalo to Lana'i Community Hospital, Dr. and Mrs. Janikowsky, Dr. Scott, Kinaole, Barbara Guillen, The Church of Jesus Christ of Latter-Day Saints-Lana'i Branch members, Ballard Mortuary (Diane Ribucan) and Pulama Lana'i.
Survived by his wife, Midori Oshima; children: Naomi (Ron) Ikari, Amy (Darrell) Kim, Byron (Sedi) Oshima, and Lily (Earl) Miyamoto;12 grandchildren and 2 great-grandchildren. Also survived by 2 brothers, Bernard (June), and Eugene Oshima; one sister, Lilian Rivera. Preceded in death by Thelma Pankonin, Edwin Oshima, Mildred Fuertes.

A Drive-by Viewing will be held on Saturday, April 24th
9:00 a.m. - 10:00 a.m. at The Church of Jesus Christ of Latter-Day Saints, Lana'i Chapel. Enter on Jacaranda Street.
Memorial service via Zoom from 10:00 a.m. - 11:00 a.m.
Burial service at Lana'i cemetery to follow. Facial masks required and social distancing according to CDC guidelines.