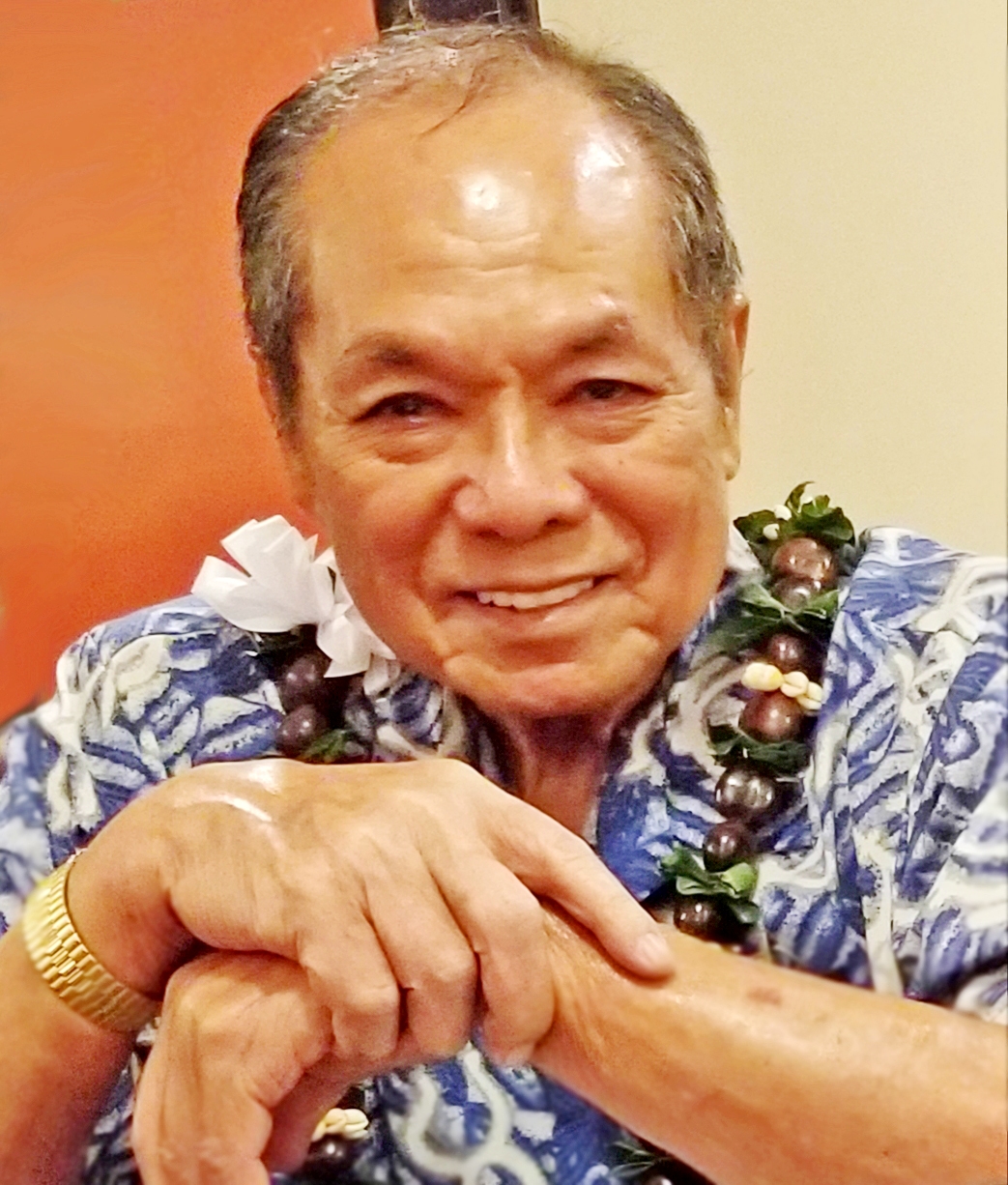 Benjamin "Benny Ballesteros, 91, of Waialua, HI, was peacefully called home on the morning of February 6, 2021. Awaiting his arrival was his wife "Penny" of 68 years, Son Robert John, parents, (3) brothers and (3) sisters.
Benny was born to Francisco and Laureana Ballesteros on July 19, 1929 in Honolulu, HI. He was the 4th of 9 children. In 1937, along with his Mother and siblings, Benny returned to the Phillipines. After witnessing the invasion of his country and enduring World War II. He returned to Hawaii to live with his Father in Helemano Plantation Camp at the age of 18. He then found employment at the Waialua Sugar Plantation as a "Hoe-Hana Man". There in Helemano, he met his neighbor Epifania "Penny" Grado, who later became his wife. In 1991, he retired after 43 years of employment at Waialua Sugar Plantation as a "Transplant and Seed Preparation Overseer".
Benny was as a man of many interests, playing music, weightlifting, electronics and reading just to name a few. Through his love for reading, Ben acquired the knowledge and skills of becoming an electronic technician. This prompted him to open a small repair business named Ben's TV and Radio. This is when he discovered HAM Radio (WH6EAY). After a few years, he ventured in to Citizens Band (CB) radio calling himself Papa Michelob. But his true passion was being an Amateur Radio Operator or HAM Radio.
After his retirement, Ben was able to fully pursue his love of being an Amateur Radio Operator. With a new CALL SIGN as KH6LJ. Everyday he would speak to everyone around the world and trade QSL cards with each and everyone of them.
His legacy to the HAM Radio world was being the Founder, Chairman and Manager of the OHANA NET. Every morning for many many years, on a timely basis, he would speak with other operators to "talk story", discussing various subjects like family, health, politics, weather or anything. Eventually, these men became his 2nd family, very best friends and confidants. Benny's signature sign-off was always "73's everyone have a great day and Mahalo. KH6LJ"
Family was of great importance to Ben. He always loved being around his many Grandchildren and Great Grandchildren and his house was always the gathering place for all occasions. Everyone was welcomed. His belief was "FAMILY IS EVERYTHING". He is survived by his: (CHILDREN) Benjamin Jr (Cheryl), Patricia Wong (Calvin Jr), Paulette Rivera (Chuck), Laureen Ballesteros (Germaine), Francine Perreira (Jerry Jr). (GRANDCHILDREN): Nolan Ballesteros (Ashley), Marisa Ballesteros (Ryan), Calvin Wong III (Chanda), Peni Sabagala (Beau), Christopher Wong (Angela), Jarrod Lunasco, Jodi Waters (Anthony), Jerry Perreira III, Justin Perreira (Sarah), Jessica Perreira and Jordan Perreira. (SISTERS): Marcelina Calilao and Maria Acosta. (19) Great-Granchildren and (1) Great-Great- Grandchild. Also many many nieces and nephews.
MILILANI MORTUARY/MAKAI CHAPEL. DUE TO COVID-19, SERVICES ARE PRIVATE FAMILY ONLY 8:00AM/FRIENDS MAY VISIT VIA DRIVE-BY: 8:00AM THRU 10:30AM/BURIAL (OPEN TO THE PUBLIC): 11:00AM.

"73's" Daddy - Grandpa - Papa - Uncle. We Love You Always!!!