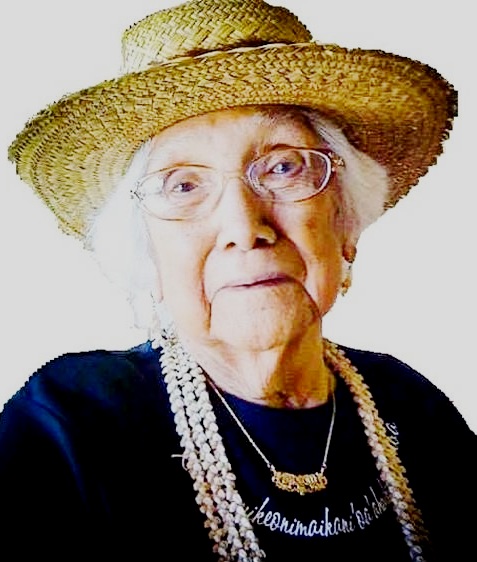 Philomena Momilani Flores Lau, 108, of Honolulu passed away peacefully at home on March 30, 2021. She was born in Halawa, O'ahu to Annie Anahiwa Hukiku Moses and Filomeno Dela Cruz Flores and later settled in Liliha with her Husband, Charles Ah See LAU. She was a long-time member of the Hawaiian Pentecostal Full Gospel Assembly church in Kalihi where her Mother, Anahiwa, was a founding member. Philomena Momilani was a worker for Libby, McNeil & Libby and later Dole Cannery until retirement in 1974. Charles and Philomena fostered many children throughout the years. During WWII she commanded a civilian women's unit that enforced curfew in the Liliha area. Philomena became a member of the O'ahu Democratic Women's Division in 1949 and was very active in the Democratic Party. Between the years of 1949 to 1956, Philomena filled multiple roles including President, Vice-President, County Committeewoman, Election Inspector, Secretary, and Delegate of the 21st Precinct.

Philomena Momilani is preceded in death by her husband, Charles Ah See LAU; three children, Francis Damien Nihiwai LAU, Audrey Aheong Kealaonalani KAMEALOHA, and Elaine Leilani POMAR; Philomena Momilani is survived by one brother, John Phillip FLORES and his wife Judith Karen FLORES; four children, Charles Kealoha LAU and wife Patricia LAU, Pamela Momilani PAGAN, Mary Ann Haunani OMEROD and husband John Patrick OMEROD, Trixy GASPER; 31 grandchildren; 79 great-grandchildren; 113 great-great-grandchildren; and 1 great-great-great-grandchild.

Saturday, May 1, 2021
Service: Hawaiian Pentecostal Full Gospel Assembly
10:00a.m. – 1:30p.m.
Burial: Diamond Head Memorial Park
2:00p.m. – 2:30p.m.