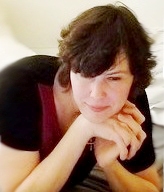 Spring Lake—On the evening of March 7, 2021, Tammy Lynn (Schulmeister) Bush, aged 40 years, was called home to our Lord in Heaven.

Tammy was born on September 22, 1980, in Beaver, Pennsylvania to Arnold and Barbara (Berdzik) Schulmeister. She graduated from Mililani High School in Mililani, HI in1999 and earned her Bachelor's degree in Forensic Science and her Masters in Criminal Justice from Chaminade University in Honolulu, HI.

Tammy was loved by everyone she knew. Her infectious smile and gentle heart endeared all of the staff and students at Overhills High School, where she taught math for the last 4 years.

She is survived by her doting and loving husband, Darrin; her son, Elijah who was the center of her universe; her fur baby, Kekoa; Milo, the white dove; her parents, Arnold and Barbara Schulmeister; her siblings, Kevin, Laura, Timothy and Cheryl; and several aunts, uncles, cousins, nieces and nephews.

A funeral service was held at Saint Elizabeth Ann Seton Church, Fayetteville NC on Saturday the 13th of March 2021 at 10 am.