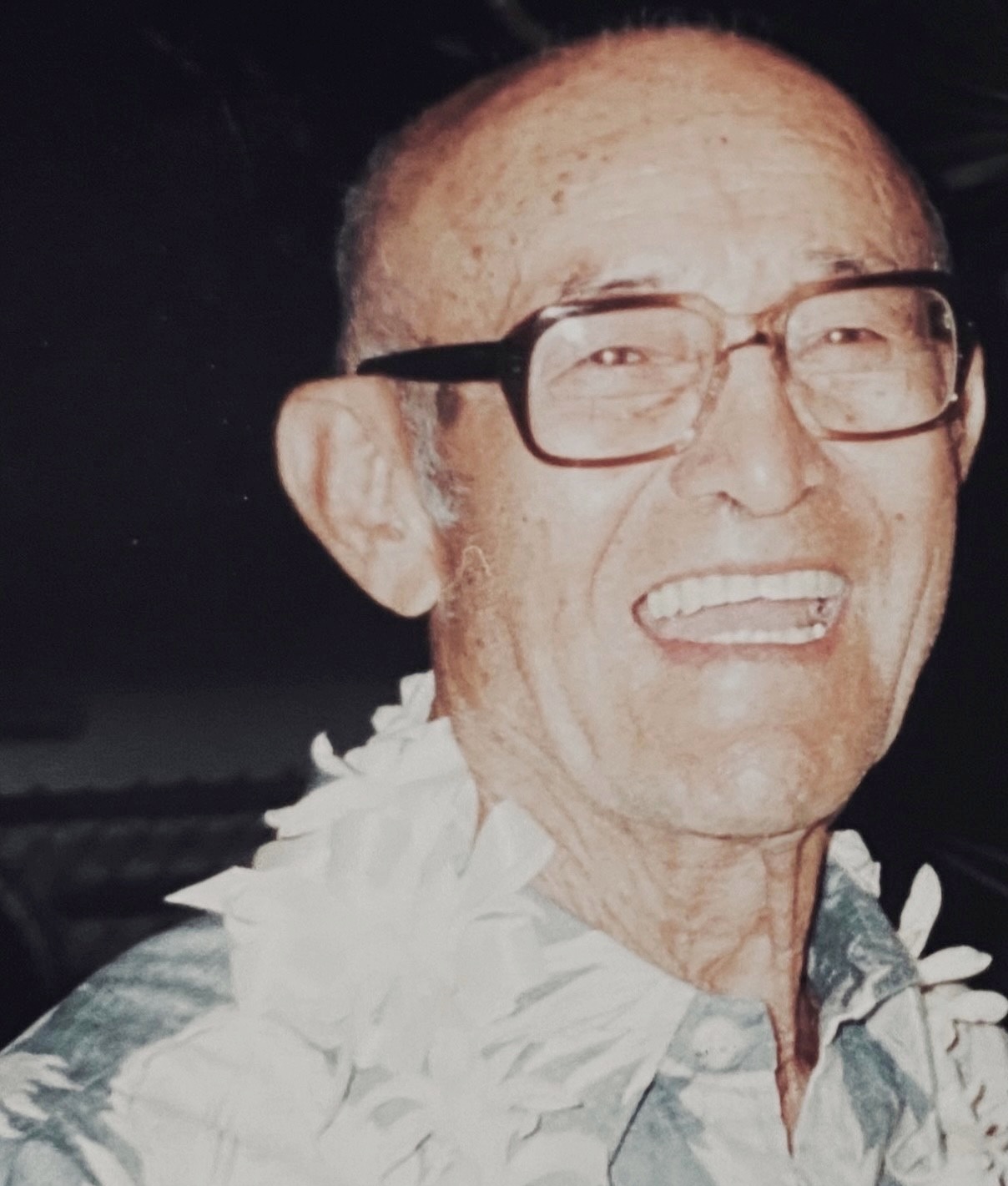 It is with great sadness that we announce the passing of our beloved Angelino "Benji" Ronquilio, age 106, on March 22, 2021. He passed away peacefully at his home surrounded by his loving 'Ohana. He joined his loving wife of 83 years, Eva Ronquilio, who preceded him in death.
Benji was born on June 4, 1914 in Puuloa, O'ahu. He was of Filipino/Portuguese decent. From a young age, he became familiar with hard work. He worked in the Sugar Plantation beginning in 1930 at age 16. He witnessed the Dec 7, 1941 attack on Pearl Harbor. Following the attack, he began his primary career in construction. One of the first major projects he built was Tripler Hospital. In the late 1950's, he proudly worked for Walker-Moody Construction as a crane operator. The famed Arizona Memorial was another notable project he was involved in. He retired in 1980 and remained a loyal and dedicated member of the Operating Engineers Local No. 3. Next...he began his second career (for twelve years) as a custodian for Gus Webling Elementary School. He didn't stop there. For ten more years, he sold fish at the Kam Swap Meet for Troy Enterprises. Completely retiring from the work force in his late 80's, still remaining active with daily exercise, maintaining his yard and caring for his wife until her passing.
He LOVED sports. Besides being a terrific athlete in all sports (especially football and baseball), he enjoyed watching sports both live and on TV. He proudly watched his two sons Ben and Tommy excel at UH Football. He also enjoyed frequent visits to Las Vegas with his wife Eva where he could be found rolling dice on the craps table, playing blackjack or by Eva's side at a slot machine. He was a whiz in the kitchen. His signature dishes were Chicken Hekka, Gandule Rice and his famous Pasteles.
He was soft-spoken, humble and a true gentleman with a disciplined work ethic like no other. He had a sharp mind, kind heart and a larger-than-life smile.
He will be deeply missed, yet his legacy will be continued on…
Benji is survived by his 3 Children: Eva (Gary) Davidson, Benjimen "Honey Boy" (Sandra) Ronquilio and Thomas Ronquilio; 11 Grandchildren; 26 Great Grandchildren; 21 Great Great Grandchildren; numerous Nephews and Nieces and his Three dogs: Geisha Girl, Girly and Christmas. His son Ronald Ronquilio, grandson Ben "Boomie" Ronquilio and many beloved dogs preceded him in death.

The Ronquilio family extends their appreciation to Bristol Hospice and Borthwick Mortuary for their excellent care.
Services were privately held.