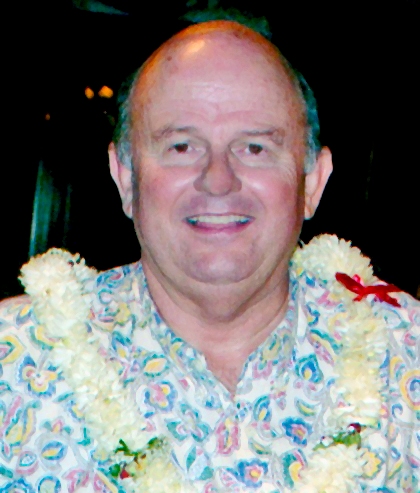 Gary William Hibbard, devoted husband, passed away on April 3, 2021. He was 78.

Gary and his wife Janet (Mullert) Hibbard were residents of Honolulu for 27 years before the couple retired to Bend, Oregon.

Gary, the son of Patricia McNamee Hibbard of Altadena, California and William Fleming Hibbard of South Pasadena, California, graduated from Pasadena High School in 1960, then went on to Pasadena City College, before earning his Bachelors of Science degree in Business Administration from Woodbury College, Los Angeles, California in 1965.

During the Vietnam War, Gary went to work for Pan American Airways/Department of Defense, and became the airport manager for Pan Am handling R&R flights for our GI's in DaNang, Vietnam. His rank was Major and was awarded Outstanding Service Award from General Westmorland.

After Vietnam, Gary attended Thunderbird Graduate School of International Management in Glendale, Arizona, where he received his Bachelors of International Management degree and later he earned his Masters in International Management with a major in International Finance.

It was while earning his master's that Gary met Janet Mullert, originally from Bangkok, Thailand, and a month later both knew they'd found "the one." Shortly after graduation, Gary and Janet were married, and began what would become a nearly 51-year partnership and friendship.

In 1970, Gary accepted a job with G.D. Searle & Co. of Skokie, Illinois, a well respected pharmaceutical company founded in 1888. His first job was Assistant to the President of G.D. Searle International, and he soon ascended to the position of Marketing Manager for G.D. Searle Philippines. A short two years later Gary became the Country Manager for G.D. Searle Thailand.

After Thailand, Gary and Janet moved back to the United States and eventually settled in Honolulu, Hawaii, where Gary spent 27 years with Procter & Gamble as Manager Pharmaceuticals for Hawaii until 2003 when Gary retired and the couple moved to sunny Bend, Oregon.

Earlier in his life, Gary played many sports beginning with baseball as a pitcher with the Pasadena little league team, before trying his hand at tennis, golf, snow skiing and water skiing. In Hawaii, Gary and Janet sailed Hobie Cats and also fished and water skied. Gary, always up for an adventure, hunted in New Zealand and fished in Canada.

Gary will be remembered by family and friends for his smile, his infectious laugh, the way he "cracked jokes," also for his loyalty. He was a friends-for-life kind of guy. "Gary was wonderful, sentimental and caring. He enjoyed people and stayed in touch with friends and relatives until the end."

Gary is survived by his wife, Janet, many cousins and his beloved dog Jesse. He is resting in peace at Mountain View Mausoleum in Altadena, California.

We miss you Gary, your contagious laugh,
how you were always there for us.