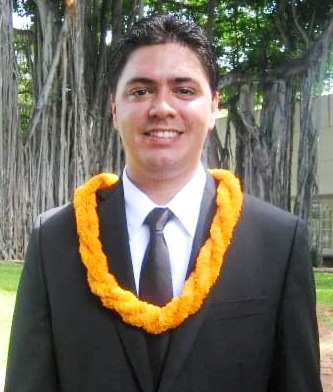 JamesAllan Keali'iaimoku McClellan, 37, passed away peacefully on April 19, 2021.

Born in Honolulu, Hawai'i to James "Kimo" Kaneiakama McClellan of Kane'ohe and MaryEllen Puanani Silva of Kailua, JamesAllan was the eldest of five brothers: WilliamHenry Kekoalauli'ionako'olau, JohnDavid Blake Kamalu, CharlesThomas Kaneiakama, and JosephHartwell Kaleolani.

JamesAllan is survived by his beloved wife, Malie Espin. Malie and JamesAllan were wed on September 9, 2017 on the shores of Kailua Bay, surrounded by their 'ohana and friends.

JamesAllan showed up to life brimming with laughter, jokes, and a ready smile. He was the life of the party, entertaining his family and friends with his beautiful voice and 'ukulele prowess. With his passion for cooking, he brought loved ones together by preparing family favorites passed down from generations. It was with this spirit of aloha that JamesAllan could light up a room and bring joy and, often, tears-of-laughter to those around him.

A proud graduate of Damien Memorial High School (2001), JamesAllan went on to study at Marymount College and the University of San Diego.

He was a member of the Hawaiian Civic Club of Honolulu, Knights of Columbus of the Fourth Degree, and served as the Kuhina Nui of the Daughters and Sons of Hawaiian Warriors, Mamakakaua. JamesAllan will be fondly remembered for his love and commitment to his family and friends, his lahui (nation or people), his church and his heritage.

'Ohana and friends are welcome to attend the funeral services on Sunday, May 23, 2021 at Hawaiian Memorial Park Cemetery & Funeral Services (45-425 Kamehameha Hwy) in Kane'ohe: Public visitation, 11:00 AM; Service, 12:30 PM; Reception, 1:30 PM; Burial, 3:00 PM. Masks are required at the funeral services.

There will also be a live online streaming of the services which can be found by visiting YouTube.com, searching for "HMPFS," and clicking on "McClellan." Lei for JamesAllan's services are welcome.