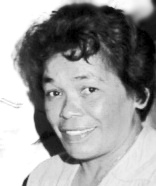 89, of Honolulu, passed away with 'ohana by her side on April 2, 2021.

Born February 23, 1932 in Waihe'e, Maui and raised in Hana. At age 18, she moved to Honolulu, establishing a fulfilling life with family and friends.

She is survived by husband Charles Chun; daughter Norine Toriki (Hanale); grandchildren Kaiaka (Jaz), Stephanie, Travis; great-grandchildren Lovey, Pulama, Kali; sisters Connie Koko, Shirley Kahula, Jerry Kaiwi; predeceased by siblings Maka, Rhoda, Smiley.

Service info: Borthwick Mortuary, May 14, 2021; 10:30 visitation, 11:30 service.