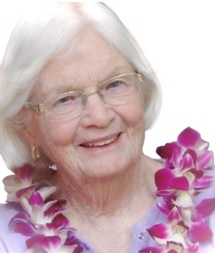 Constance Luana Steensrud Ornelles, went to heaven on April 10, 2021 surrounded by her loving family. She was 88 years old.
Connie was born on August 22, 1932 in Honolulu, Hawaii to Alvin and Helen Steensrud. Connie attended the French Hospital School of Nursing in San Francisco, graduated in 1953 and began working at San Francisco General Hospital. During that time, she met Gordon Ornelles from Hawaii, who was attending the University of the Pacific Dental Program. When Gordon proposed, she knew that life would always be an adventure with him, and it certainly was. They were married in 1954 and moved to Fort Lewis Army Base in Washington. They moved to Two Rock Ranch Station near Petaluma, California. Gordon set up a dental practice in Petaluma. Connie loved Petaluma for many reasons, but high on her list was the fact that it was so close to the ocean. She missed Hawaii and this reminded her of home. The family spent numerous weekends at the beach. You have to consider that it was probably no small feat to get 7 children, food, and supplies ready for a day trip to the beach. From Petaluma they moved to Penngrove then Granbury, Texas.
Connie found time when the children were young to take an oil painting class, contribute recipes to the Catholic Ladies Club, and sew clothes and costumes for her children. She dearly loved to read, enjoyed baking and kept a very clean home. Her nursing skills were a real asset when her children had their own children. You could count on Connie to make sure that your laundry was done, your bathrooms were clean, food was on the table, and your newborn had all the love and cuddles they could need. Babies were her passion.
Tutu, as she was known by her grandchildren and great grandchildren will be missed by her 7 children; Anne, Julie, Cynthia, Elizabeth, Leslie, Michael, and Steven and their spouses; 14 grandchildren and 5 great grandchildren; her brother James and Linda Steensrud, many nieces and nephews, and family from Hawaii to the East Coast.
Connie was preceded in death by her husband, Gordon and brother Al.
The family will be taking Gordon and Connie's urns to their final resting place in the Hawaii State Veterans Cemetery next year.