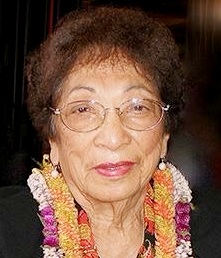 96, passed away on April 18, 2021.

Born Juanita Antolin, in Makawao, Pulehu, Maui, Hawaii on December 13, 1924. She is survived by her children, Rosalinda (Marcelino, Jr.) Labuanan, Remedios Madeline A. Cambe, Carolyn A. (Robert) Nakatsu, Gene A., Dina (Charles) Smith, Roy, Priscilla (Robin) Casabar, Alvin, Kenneth, and James; 22 grandchildren, 49 great-grandchildren; 13 great- great-grandchildren; brother Ilfidio (Venecia) Antolin, sister Francine Ritumban, half-sister Robin Dacuycuy; aunts, uncles, nieces, nephews, and cousins. She is preceded in death by her beloved husband, Gene Cabamongan Cambe; son, Jeffrey A. Cambe; father Nicholas Antolin, mother Dominga Agoyaoy, step-moher, Evelyn Wallace; half-sisters Teresita Antolin, Sandra Dacuycuy.

A celebration of her life will be held in a private family service.