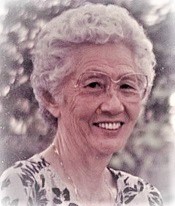 Our Beloved Mom, Leatrice Fukuyo Sato of Wahiawa, passed away on Easter Sunday, April 4, 2021, at the age of 99 in Pearl City. She was affectionately known as Lea or Kachan by her friends and family.
Mom was born in Lahaina, Maui, on December 14, 1921. At three months old her mother passed away and she was raised by her grandparents in Wahiawa.
Mom barbered in Wahiawa and later opened her own shop in Haleiwa. She married Wallace Tadataka Sato on March 26, 1945. Together they raised four children. Her love of children led her to babysit for many families in Wahiawa including her grandchildren and great grandchildren.
Lea is a member of the Waipahu Soto Mission. She loved Japanese music and dancing. Mom raised beautiful anthuriums and orchids, and enjoyed weekend fishing outings with the family. She crocheted, made futons and created crafts which she lovingly gave to her friends and family. After dad retired they traveled to Las Vegas to meet up with her brother and granddaughter.
She is fondly remembered by her family as being loving, generous, and supportive. Mom truly was our family's matriarch bonding us in family and holiday traditions. Her role is one that cannot be replaced and will be greatly missed.
Survived by children: Sandra Enomoto-Endo, Diane Edwards, Dale (Adrianne) Sato and Calvin Sato; sister Thelma Miyahara; three grandchildren and seven great grandchildren. She is predeceased by husband Wallace, siblings Ruth Loeffelholz, Norma Ikeda, Edith Hines, Mildred Miyahara, Naomi Watanabe, Horace Koga, Donald and Robert Yanagihara.

Due to COVID concerns and safety to all,
private memorial services were held.