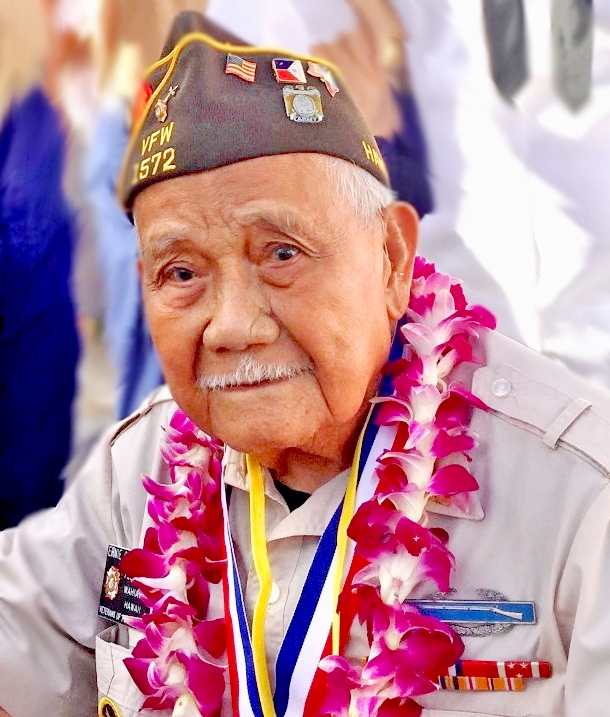 Ernie Sombrero, a Filipino-American World War II veteran and Congressional Gold Medal recipient, passed away April 20, 2021, surrounded by family members who fondly remember him as "Papa" and "Ojichang." He was 96 years young.

Ernie was a member of the Hunters ROTC guerrilla unit that supported the U.S. military during World War II in the Philippines. Over the four decades, he was an aircraft and heavy equipment mechanic at Kadena and Andersen Air Force bases on Guam and Okinawa.

It was in Okinawa in the 1950s where he met and wed the love of his life, Fumiko. They raised four kids who spoke Japanese, Tagalog, Okinawan and English—and relocated to Guam in 1972 after the U.S. returned Okinawa to Japan. He and Fumiko moved to Hawaii in 2007.

Ernie was born in 1924 in Iloilo, Philippines, to parents Perfecto Penaflor Sombrero and Valeriana Cruz Chavez. The eldest son of nine children, his surviving sibling Conception and her spouse, Alfonzo Lumbad, live in the Philippines.

Ernie is survived by his bride of over 70 years, Fumiko Kishaba Sombrero. Their children and spouses: Harumi Rose Cruz and Resty; Linda Eguchi and Kevin; Jimmy Sombrero and Yasuko; and Steve Sombrero and Takako. Grandchildren and their spouses: Cathy Cruz-George and Justin George, Vanessah and Stan Liu; Christine and Brian Samson; Kyle Sombrero; Candice Sombrero and Yusuke Ishikawa; Iris Sombrero; and Sergio Sombrero and Brandee. Great-grandchildren: Ethan and Kaia Liu, Crystal George and Zachary Samson.

Ernie rests in peace in Valley of the Temples on Oahu. Friends who wish to celebrate Ernie's legacy may consider a charitable donation in his honor to the Veterans of Foreign Wars-Post 1572.