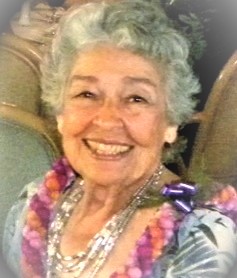 98, of Kailua, Hawaii, passed away peacefully on Friday, June 26, 2021.
The middle of five children, Bernice was born in Honolulu, Hawaii on November 8, 1922, to parents Frank and Odelia Pregana Felix. Growing up in Honolulu, she attended public schools and graduated from McKinley High School with the Class of 1940 as their Social Chairman.
She met Ronald F. Brissette, Jr., the love of her life, and they were married on June 7, 1941, in Honolulu at St. Augustine's Church in Waikiki. A few years later, Bernice and Ronald moved with their two oldest children from Kaka'ako and settled in Kailua where they raised their five children.
Bernice and Ronald were parishioners of St. Anthony's and were members of the Young Men's and Young Ladies' Institute. They moved to St. John Vianney Catholic Church in Kailua. As a member of SJV Ladies Sodality, Bernice gave of her time and talents to the many devotionals, social, and craft services they volunteered for the church. She was generous, until the very end of life, and gave graciously to her St. John Vianney Family.
Bernice was a working Mom, who created a happy, warm, safe, and loving home. She began her first job at a young age and had a long work career at City Tranfser Co., Wonderland Homes, First Hawaiian Travel and other local businesses. She and Ronald worked hard and chose schools to provide their children with excellent educational opportunities.
She loved entertaining and cooking for friends and family. A great cook well into her 90's, she had few recipes, saying just "taste". Throughout the years, Bernice also loved sports, music, and dancing. Her friends will remember her energetic participation as a fan of UH Wahine Volleyball, active membership in the Mid Pacific Country Club Ladies Golf Division; dancing and playing ukulele at the City & County Senior Center Kaneohe - Na Kupuna o Ko'olau. In the last year her "chair dancing" was the cutest thing you ever saw; still smiling.
Thanks to her career as a travel agent and guide, she and Dad found the excitement of world travel, journeying extensively and making new friends on land and sea. They went everywhere!
We can still see her clearly: she was funny and cute with her sassy little walk in those quick-stepping high-heels. Tell her to slow down, we're out for a "stroll." But she didn't know how to "stroll" or slow down. "Always on the go, that one," her mom would say. Bernice's favorite sayings; "Where you going now?" and "You go, have fun!"
Our memory of Bernice is of a caring and supportive person; thinking of others before herself and always willing to help friends and family as best she could. How she loved to make people smile; it was the gift she shared wherever she went. She kept her goal in life in focus: she gave her all to keep her entire extended family together and fill each heart with love.
Predeceased by her spouse, Ronald; sons, Alexander Paul Brissette and Ronald Francis Brissette, III; parents, Frank Felix, Sr., Odelia Pregana Felix; siblings, Agnes Lino Felix Rodriguez; Eleanor Felix Gibson; Frank Felix, Jr.; Alexander Felix. She is survived by daughters Kathleen Brissette/Lohman Kennedy (Jeff), Myrna Brissette Junk (David) and Anita Brissette Bruce (Gerald).
Also survived by nine grandchildren: Kristine Lohman Boykin (Don), Frank Lohman (Mary), Michael Lohman (Laurie), Jeffrey Lohman (Melodye), Russell Bruce (Alison), Jason Bruce (Lisa), Daniel Bruce (Linda), Ryan Junk (Lindsay) and Scott Junk (Jaime); 23 great grandchildren; 13 great great grandchildren and numerous loving nieces, nephews, and descendants of the Brissette, Felix, and Bodine families.
A funeral mass will be held on Saturday, November 13, 2021, at
St. John Vianney Church, Kailua. Visitation for Immediate Family: 9:30 a.m.; Public Visitation: 10:15 a.m.; Eulogy: 10:45 a.m.; Mass will be at 11:00 a.m. with Fr. Peter Miti.

No flowers please. Lei will be welcome.
Private burial services at a later time.
Friends may leave messages to the family at dignitymemorial.com
provided by Hawaiian Memorial Park Funeral Services.