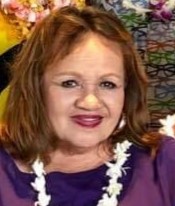 67, an Accounting Manager for Jack Wolfe Insurance, Inc., of Kaneohe, passed away on June 12, 2020 surrounded by family. Ronni was born in July 1952 in Honolulu, the youngest of nine children, to Samuel Vincent and Agnes McCabe Hipa. A loving daughter, wife, sister, mom, grandmother, aunty and friend, she leaves behind a legacy of love, hope and charity for all who knew her.
A 1970 graduate of Sacred Hearts Academy, Ronni married the love of her life, Edgar Kauhiwahiwa Pratt, Jr., in October 1975. They had two children and four grandchildren who they dedicated their lives to. Employed in 1986, she served Jack Wolfe for 35 years.
Ronni loved life and people. She inspired others and gave selflessly. She supported efforts for equity and justice in her later years.
She is survived by her daughters: Tina Marie Wahinealii Montira and Sandra Ann Kauionalani Pratt-Aquino (Theodore); grandchildren: Jina Marialani, Edgar Josia, Preston and Kaulana Pratt, brother, Benjamin Hipa, sisters, Jaqueline Hipa (Ignatius) and Jackie Hipa (Samuel) and countless family and friends.
A Mass will be held on Saturday, November 20, 2021 at 9:00 a.m. at St. Anthony of Padua Catholic Church in Kailua. Celebration of Life to follow at 11:00 a.m. at Bayview Golf Course, 45-285 Kaneohe Bay Drive, Kaneohe. Proof of vaccination is required.