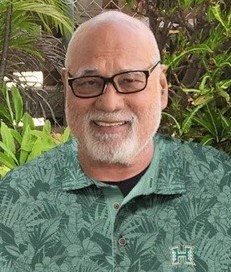 It is with great sadness the Agena family announces the passing of Carlton Leigh on April 18, 2021 at Swedish Medical Center in Seattle, Washington with his loving wife Lois and devoted sons Casey and Jody at his side.
He was the son of the late Clarence and Patricia Agena of Lahaina, Maui. Taking much pride with his Maui roots, relationships with family and friends, coaching Little League baseball, an avid San Francisco Giants/49ers fan and dedication to help others succeed, he was fondly known as "Uncle Carlos" to many.
Growing up in Lahaina, Maui offered him grounded life values and exceptional work ethics he was always proud of. He graduated from Lahainaluna High School in 1966, then received a Wildlife Biology degree from Humboldt State University. He began Dynamic Termite & Pest Control/BioTech in 1982 with support from an exceptional team of employees. His affiliation with the Hawaii Pest Control industry offered him an alliance with outstanding professional colleagues and associates he relished with pride. Having the honor of being on its DCCA Pest Control Board provided him an opportunity and privilege to make a difference.
Upon retirement, he enjoyed another milestone with his special Ohana at USDA sharing many heartwarming friendships.
His profound love for family and friends is reflected with enjoyable years of coaching Wai-Kahala and Manoa baseball for his sons, baseball team trips, planning family gatherings and treasured friendships throughout the years. His special Joy in Life was spending time with his grandchildren as a devoted Grandpa sharing unforgettable memories. Blessings Indeed!
Enduring 38 years with health struggles, his high spirit with Life and amazing courage abruptly ended with an aggressive, rare form of cancer. The Good Lord welcomed him with Peace.
The family wishes to thank Swedish Medical Center and its staff for their outstanding compassionate care and support.


Carlton Leigh Agena aka "Carlos".……. Forever In Our Hearts



He is survived by his wife Lois; sons Casey (Joanna) and Jody (Karen); five special grandchildren: Alina, Mila, Alexis, Lando and Hiro. Siblings: Clarence Merton (Ji Sung) Agena, Dianne (Roger) Takeuchi, Clayton (Cheryl) Agena, Cynthia (Edgar) Garbutt, nieces and nephews.

A Celebration of Life to honor him
will be planned and announced at a later date.