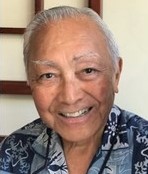 89, passed away peacefully on September 24, 2021, at home in Honolulu. Theodore (Ted) was born on Kauai. As a child during World War II, he was sent from Hawaii with his family to internment camps at Jerome, Arkansas and later to Tule Lake, California. His family was returned to Hawaii. He attended Mid-Pacific Institute and after graduating from the University of Hawaii, served in the US Army in Germany. He taught at University High School and McKinley High School, then became a Science Education professor at Oregon State University, and finally a Professor Emeritus of Education at Willamette University in Salem, Oregon. After retiring, he and his wife, Setsumi, spent time traveling the world returning to live in Honolulu. A lifelong learner and educator, his interests ranged from ocean science, to religion, and space. He was a loyal, patient, protector, listener, and advisor to his family and life-long friends.

He is survived by his wife Setsumi, children Debra and Glen, grandson Justin, and brothers, Donald, Gordon, Walter, Leslie, sister Clara and their families.

A private interment will be held at the National Memorial Cemetery of the Pacific at Punchbowl. A celebration of life memorial service will be held when Covid-19 restrictions permit. Donations may be made in his name to Mid-Pacific Institute.