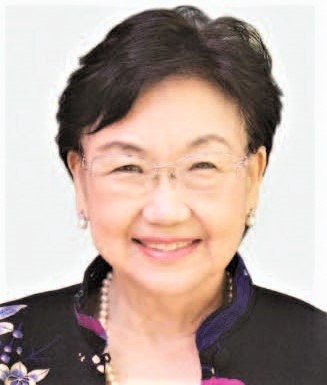 Loretta Luke Yajima passed away peacefully at home on November 8, 2021, with her family by her side. Born in Honolulu, Hawaii to Kan Jung and Beatrice Luke, Loretta grew up in Manoa, attended University Elementary School and graduated from Punahou School in 1964. She earned a bachelor's in science degree in education from Skidmore College in New York where she worked with children with disabilities and underserved audiences as a volunteer.
After returning home to Hawaii, she accepted a position with the Head Start Program, working with children and families in Kuhio Park Terrace while earning a master's degree in early childhood education from the University of Hawaii. A lifelong educator with a passion to serve the public, she began her teaching career at the University Laboratory School in Honolulu, and then joined Hanahauoli School as an elementary school teacher. Her love of teaching was a role that earned her an award as one of the Outstanding Elementary Teachers of America in 1973. Eventually, Loretta transitioned to Vice Principal and then Administrative Director of Hanahauoli until her retirement in 1987.
That same year, Loretta became involved in the planning stages of the Hawaii Children's Museum of Arts, Culture, Science and Technology and assumed the position of President of the Board of Directors. She led the museum through three capital campaigns raising over $20 million as the museum transitioned from its storefront location at the Dole Cannery Square to its current location in the Kaka'ako Waterfront Park. Today, the 45,000-square-foot Children's Discovery Center continues to flourish as a world class facility heading into its 23rd year of operation.
In recognition of her work on behalf of the children of Hawaii, in 1991 Loretta received the J.C. Penney Golden Rule Award for Volunteerism, and the George Washington Medal of Honor Award for Individual Achievement from the Valley Forge Freedom Foundation in 1992. She was recognized by First Lady Lynne Waihee as Hawaii's Outstanding Volunteer of the Year, and received a Community Recognition Award from the Chamber of Commerce of Hawaii, an Award of Excellence from the University of Hawaii College of Education, and a Certificate of Recognition from the Honolulu City Council. In 2008, she was recognized by Pacific Business News as the Woman Volunteer of the Year, and in 2009 she received a Humanitarian Award from the SGI Cultural Center in Honolulu.
Although she is best known for her work at the Children's Discovery Center, her life's mission was to inspire peace beginning with children by building bridges between Hawaii and the world. In 2016, she hosted the Asian Pacific Children's Museum Conference in Honolulu to bring together educators and museum professionals from Asia, Europe and the U.S. The conference theme, "Peace with the Heart of Aloha," was to help prepare children as the next generation of world leaders for an uncertain yet promising future.
Inspired by her life's work, in 2011 a Chinese businessman and philanthropist visited the Discovery Center and was so moved that he set a goal to build 100 children's museums in 100 cities across China based on Hawaii's museum as a model. As a founding member of and senior advisor to the Children's Museum Research Center in Beijing, Loretta assembled a team of experts from children's museums across the country to consult on the international project, traveling to Beijing, China and Hohhot, Inner Mongolia for half a decade, and was present when the Lao Niu Children's Discovery Center first opened its doors in Beijing in 2015. A second museum opened in Hohhot, Inner Mongolia in 2017.
For her work across Hawaii and China, Loretta was recognized as the Pacific Buddhist Academy's Lighting Our Way Honoree in 2014 and was awarded Punahou School's Charles S. Judd, Jr. Humanitarian Award in 2016. In 2018, she was honored as one of YWCA Oahu's Hawaii Women Leaders and PBN's Women Who Mean Business. In 2019, the Hawaii Chinese Civic Association recognized her as Mandarin of the Year.
Despite her many accomplishments, Loretta was most proud of her family who believed in and supported her vision for the children of Hawaii and the world. Loretta is survived by husband Tyler; daughters Lara Siu (David), Liane Usher (Keith), and Tiffany Yajima (Marc Sabate); six grandchildren; and siblings Warren Luke (Carolyn), Sharlene Mau and Janice Loo (Wilson).
Private services will be held. In honor of Loretta's vision and legacy, donations may be made in her memory to the Hawaii Children's Discovery Center.