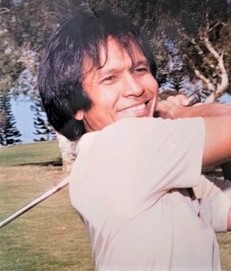 76, of Ewa Beach, passed away peacefully at home on September 5, 2021, surrounded by his Family. He was the youngest of his family and came to Hawaii as a young child. He graduated in 1963 from Waipahu High, served in the Army, gained his Accounting degree, Loved his golf, and singing Karaoke.
His stories of old, taught us to be grateful for what we have, and to continue to strive forward in all that we do. His smile and laughter will be missed by all.
He is survived by his wife Mary, daughters Sheri-Ann and Lisa, 5 grandchildren (Brandon, Daniel, Nicole, Aysiah, and Kamani) and 6 great-grandchildren (Sherel, Kaipo, Seth, Kylee, Liam and Hayden).