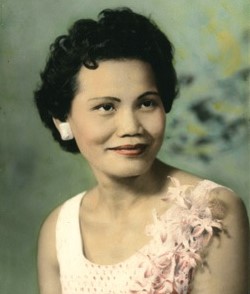 Colletta Baldovino Torda, born March 6, 1920 in Lapog (San Juan), Philippines, passed away on September 28, 2021 at the age of 101. She served the Hawaii Community since 1948 and retired from operating a private care home after 30 years.

She is survived by her brother, Pablo (Marietta), children Leo (Malyn), Willee, Lando, Efren (Norma) and Annie; 21 grandchilren, 40 great-grandchildren, and 4 great-great-grandchildren. She was preceded in death by husband Dionicio Torda and siblings Trinidad Guerrero (Jovencio), Julia Catbagan (Jose) and Jose Valledor (Erundina).

Wake on December 12th at Mililani Mortuary, Mauka Chapel 5:30pm visitation, 6:00pm service; Funeral Mass on December 13th at St. Joseph Church 8:30am visitation, 9:30am Mass and she will be laid to rest at Mililani Memorial Park directly after the Mass Service. SEATING IS LIMITED. Please RSVP for both services by December 7th to Annie (808) 692-3323. Wake service attendees must show proof of full vaccination with card and photo ID.