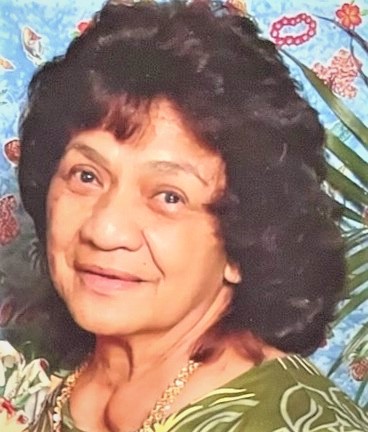 Faith Kauilani Nakoa Distajo of Aiea, 80, passed away peacefully at Ka Punawai Ola on September 18, 2021 to be with God. She was born in Honolulu on March 21, 1941 to John and Mary Nakoa. Faith grew up in Palolo Valley, attended Palolo Elementary, Kaimuki Intermediate, and graduated from Kaimuki High School in 1959.
Faith was a very hardworking woman, sometimes working two jobs at any given time. She worked at the Waikiki International Marketplace and as a practical nurse at the Island Nursing Home. Faith made many friends while working at the marketplace and loved caring for the elderly at the nursing home. She was also a very talented florist and worked at numerous flower shops but is most known to have worked for Flowers by Jr, Lou, and T, finally retiring in 2003. Many knew that Faith loved making beautiful floral arrangements. She decorated for all occasions and others were often blessed by the beauty of her creations. Faith did not hesitate to use her talent as a florist to help whoever was in need.
"Aunty Faith," which she liked to be called, had a beautiful heart of gold. She was a nice, loving, caring, and generous woman. Anyone who met Faith would immediately love her. She was sweet, charismatic, cheerful and always smiling. Faith loved talking to people and making them happy. She blessed and helped so many, often putting the needs of others before her own.
God was the center of Faith's life. In her youth, Faith grew up as a member of The Door of Faith Church, after which she was named. After her marriage to Antonio, Faith became a member of The Hawaiian Pentecostal Full Gospel Assembly. She loved serving God. Faith loved singing praise and worship songs, being a blessing whenever and wherever she sang.
Faith was a devoted wife, mother, grandmother, and great- grandmother who was always proud and supportive of her husband and all her children. She loved her family, friends and everyone she met and knew. Most of all, she loved God. Faith was greatly loved by her husband, children, family, friends and by everyone meeting her. She will be sorely missed, but we know without doubt that she is at home in heaven with the Lord looking down at us and saying, "Over the top for Jesus," "God is Love," and "I love you."
Faith Distajo is survived by her husband, Antonio Distajo, Jr.; sons, Anthony Kehau (Lisa) Distajo, Alan Ka'imi Distajo; daughters, Alethea Ku'ulei Serna, Jessica Joy (Stephen) Zarriello; brother, Theodore "Buddy" Nakoa; 12 grandchildren, 5 great grandchildren, in-laws, nieces, nephews, and cousins.
Visitation and service to celebrate her life will be held on Friday, December 10th, 2021, at 9:00 AM to 12:00 PM (Service at 9:45 AM) at The Hawaiian Pentecostal Full Gospel Assembly, 1159 Gulick Ave, Honolulu, HI 96819; Burial at Kaneohe Veterans Cemetery at 1:00 PM.