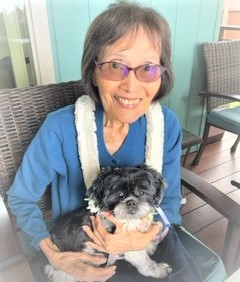 Kiyoko Gladys Kotaki, born to Eki and Sakuhei Mizuno on July 22, 1927 in Waiahole Valley, passed away peacefully in her sleep on September 25, 2021 surrounded by loved ones.

Gladys graduated from Benjamin Parker High School in 1945. She met Masaru Kotaki while working at Sears and were married in 1949. Together they had two boys.

She became Castle High School's secretary in 1954. She attended night school at Windward Community College and in 1978 graduated with distinction from the University of Hawaii with a BA in Education.

After retiring, she found her passion for traveling to Asia and Las Vegas. She celebrated her 94th birthday in Las Vegas.

Survived by sons: Wayne Kotaki, and Ward (Karen) Kotaki; grandchildren: Kekai Kotaki, Liula (Nathan) Christensen, Kalaimoku (Kimberly) Kotaki; great-grandchildren: Lililehua, Hiilani, and Waileia; and many nieces and nephews. Masaru Kotaki predeceased her in 1995.

Private Services will be held.