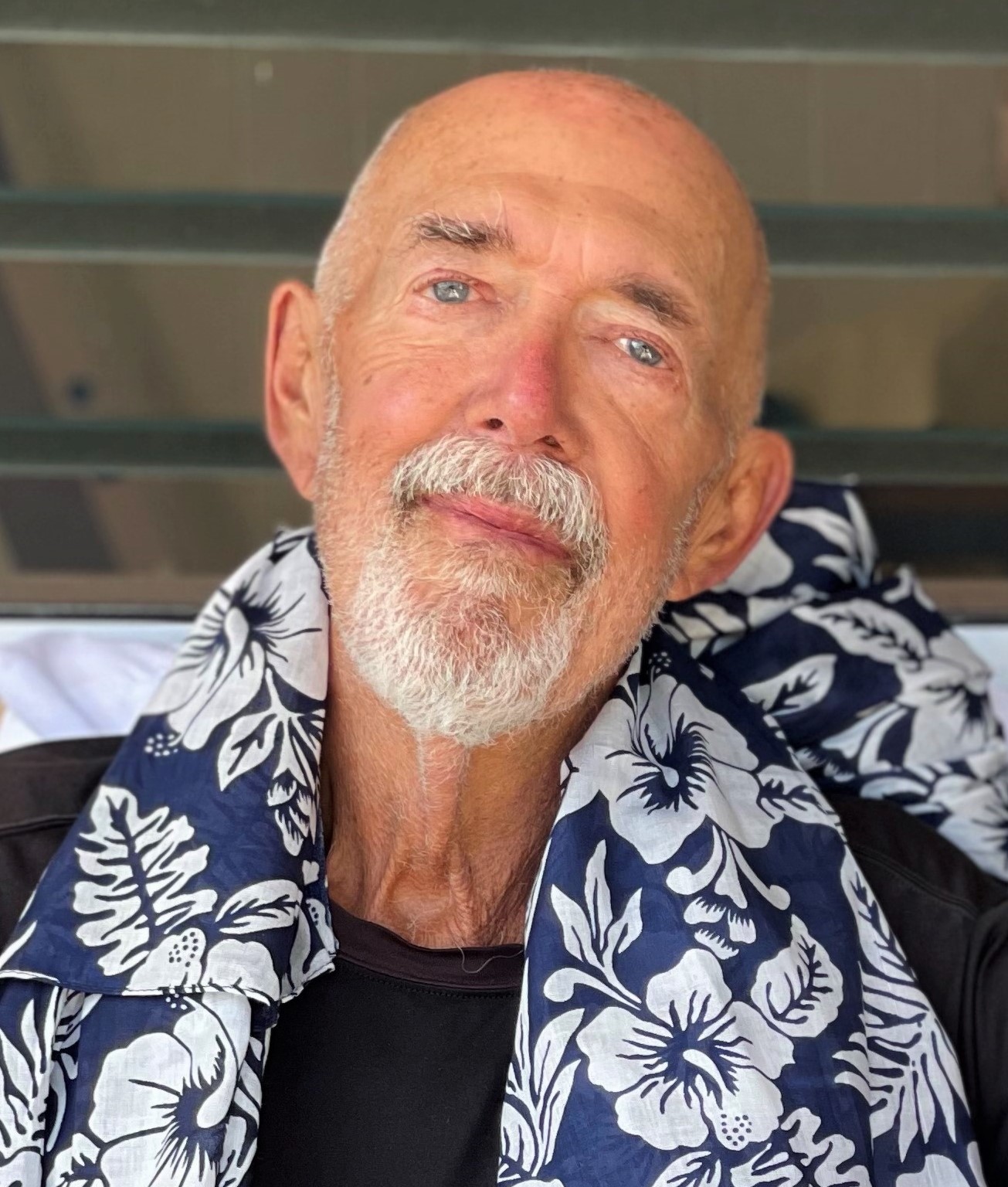 Peter Dyer Gellatly, Jr., passed away in his Manoa home on Monday, September 27th, 2021. He is deeply loved and missed.
Born July 27th, 1951, in New York City and raised in Hudson, Ohio, he was a caring big brother to four siblings. He is remembered as a very bright, athletic, and musically gifted student who made friends easily and kept them for his lifetime. An alumnus of University of Michigan, he was a "Go Blue" Wolverine fan to the end of his days, also known to cheer the Boston Red Sox and the Hawaii Rainbow Warriors.
In 1973 he moved to Hawaii to work as a tour escort. After eighteen months in the Islands, Peter set off to see the world. The year he spent traversing Africa changed his life, and he returned home to the United States a changed man with a profound awareness of his privilege.
Peter became a leader in the field of local visitor media, first publishing the groundbreaking "Spotlight Hawaii" magazine, then the industry-changing "Best of Oahu" booklet, as well as Pele and Pa'i Award-winning books and television programming for hotel partners across the Islands, including Hilton, Outrigger, Starwood and The Kahala. He considered it a gift to publish the work of artists and writers in each edition, which he personally press-checked year after year. A tenacious businessman who led with compassion, he was a rare combination of success and humility, respected by peers, treasured by clients, and beloved to employees, who he considered 'ohana. He worked tirelessly for decades at Network Media in an office packed floor to ceiling with photos and artifacts of his children, and in the company of a pair of parrots. His love for Hawaii was abundant and pure, manifested through media, with an enthusiasm for sharing aloha that never waned. He loved playing the tour guide for visitors and he religiously worshipped the ocean.
Peter was sometimes the subject of local newspaper editorials. One profiled the success of ChildWatch India, a charity he created to help the families he befriended on the street during trips to New Delhi. He took the time to understand their needs, built homes and schools, provided medical care, and gave microloans to help them start businesses. He installed the first freshwater spigot in their impoverished neighborhood. Another special interest article covered his appreciation for the mystical and why he always carried healing stones in his pocket. (Some were precious and rare while others were simple rocks collected from his favorite places to be with family: Hull, Massachusetts and Greensboro, Vermont). Never published but no less prized in his life accomplishments was OOPS, Out of Prison Services, a Honolulu-based organization that helped women coming out of incarceration. His appearances as Santa Claus at the Mahoney Hale halfway house, the Lanakila Disability Service, and the homes of his employees with children were highlights of each holiday season. That was Peter at heart: Santa Claus to a wide array of people. He had an outsized sense of empathy and responsibility for making the world a better place. He did this in large formats, like the charitable organizations which he created and ran, but also every day, face to face with his fellow humans. He never condescended and was ready to step in and help wherever and whenever he could.
Peter would often volunteer that, no matter the professional heights he reached, the best and most important job he'd ever have was to be a father. He cherished every minute spent with his daughters and considered his devotion to his children and his career a delightful balancing act. He lived and instilled the life lessons: "Be nice" and "Don't quit," demonstrating through his actions how easy it is to do the right thing.
Peter is survived by his daughters, Maria and Resham, and their mother, Kashmir; his daughter, Louisa, and her mother, Rebecca; his siblings, David, Lisa, Wendy, and Sarah; and scores of family and friends who will remember the aloha with which he lived every facet of his life. A memorial will be announced at a later date.