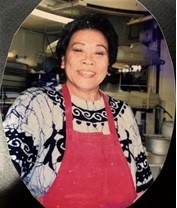 Gladys Wong Okamura was born in Honolulu on July 19, 1930 and passed away peacefully at her home on September 20, 2021 in the presence of her children.
Gladys Wong grew up in Wahiawa and attended Leilehua High School. After graduating, she opened an ice cream parlor called the "Peppermint Shack". She then married Richard Okamura, an engineer. Gladys worked at the Bank of Hawaii, and, later, the Schofield Barracks library as a library assistant. She stopped working and began operating lunch wagons that sold local favorites like chili rice and shave ice at the beach. In the mid 1970's Gladys opened "Kitchen Delight" on the corner of Cane St. and California Ave. where she invented the $1.75 "Shock & Awe" breakfast. Gladys greeted every customer who came in with a big Wahiawa smile. In her life, she had helped the community by supporting many youth sports teams as well as the Leilehua High School football team.
A Wahiawa girl through and through she helped many people over the years get back on their feet, and, she will be missed by all who knew her as well as those she helped.
She is survived by children: daughter Jeri and three sons: Eric (Vicky), Eryle, Alan (Laurie); grandchildren: Alyssa, Bronson, Katie, and Ethan.

A Memorial service will be held on January 8, 2021, 10:00 a.m.
at Inspire Church, 95-061 Waimakua Drive in Mililani.