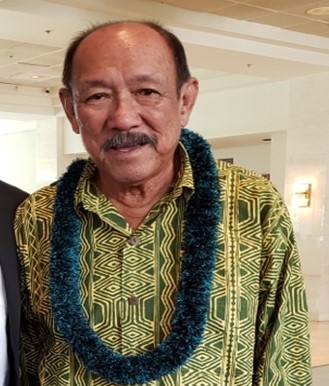 Was born on October 10, 1937. He recently had his 84th birthday and passed away peacefully on October 31, 2021. He was born in Young Hee Camp, Puunene, Maui, Hawaii. He was the 6th of 11 children born to Pedro and Blasa Balmores. He attended St Anthony's School on Maui until moving to Oahu where he was enrolled and graduated from St Louis High School Class of 1955. He received his Engineering degree from University of Hawaii at Manoa. After obtaining his degree he became a Civil Engineer for the Department of Defense, which took him to many remote locations from the outer islands of Hawaii to locations in Japan, Korea, South Pacific, and Australia. It was from this job that he acquired the bug to travel and spent his retirement years at first babysitting, traveling to Europe, Asia, Las Vegas, and twice weekly rounds of golf.

Francis is survived by his wife Helen Akaka Balmores, son Ryan (Darnelle) Balmores, daughter Charlene (Albert) Grande granddaughter Alicia Kamalei Grande; brothers, Larry Balmores (Perlita) John Balmores (Patricia) Sisters, Mary Balmores, Elizabeth Wong (Clayton)

He is pre-deceased by his parents Blasa and Pedro Balmores, brothers: Jose Balmores, Ted Balmores; Sisters: Avelina, Remy Hood, Mona Lisa Wood

Memorial Services to be held at Mililani Memorial Mortuary Park, Mauka Chapel Monday, January 3, 2022. Viewing at 9:30 to 10:30, funeral services to follow.
Private Burial

Current Department of Health mandates regarding vaccination, mask wearing, and social distancing required for admittance.